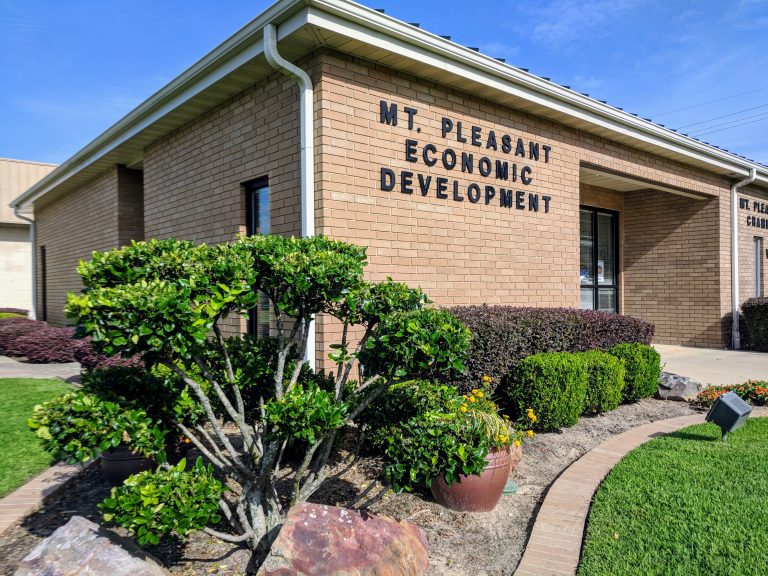 The City of Mount Pleasant, Texas Industrial Development Corporation, dba Mount Pleasant Economic Development Corporation's (MPEDC) Mission is to promote economic development in the City of Mount Pleasant and Titus County by supporting initiatives designed to increase jobs and private investment primarily in the manufacturing sector through real property development, workforce education and infrastructure extension. 
MPEDC exists to promote Mount Pleasant as a premier location for business, targeting key industries that provide high wage jobs and future sustainability for the community. MPEDC is the primary point of contact for existing businesses and prospective businesses, site selectors, developers, and community stakeholders to obtain technical expertise and support services necessary to properly evaluate business opportunities in the city.
The organization is organized under the Texas Municipal Code as a Type A Economic Development Corporation.  The Board which governs action of the Corporation consist of five members appointed by the Mount Pleasant City Council to two year terms.  The organization is required to comply with the Texas Open Meetings Law.  The Corporation may do business under the name Mount Pleasant Economic Development Corporation (MPEDC). The Corporation's activities are funded by a 3/8 cent sales tax approved by the voters in a general election in 1993. The Board's approved budget and expenditures must be approved by the City Council. 
The Mount Pleasant Economic Development staff  is always ready to help you expand or relocate your business here in Mount Pleasant, Texas. With years of experience in economic development, businesses will find the knowledge and support they need to succeed.
Nathan Tafoya is one of 1,200 global IEDC certified economic developers (CEcD) and is celebrating 15 years in economic development. He is also a certified entrepreneurship development professional (EDP), focusing on creating, sustaining, and supporting entrepreneurial ecosystems for small businesses and founders. Nathan is a  Texas Economic Development Council board member.
Nathan is the recipient of DCI's 2021 Economic Development 40 Under 40 Award, the biennial award recognizing rising stars under 40 years old in the economic development industry. He currently resides in Mount Pleasant, TX as the Executive Director for Mount Pleasant Economic Development Corporation. He served as the Research Director and Vice President of Business Development for Rio Rancho Economic Development Corporation from 2007 to 2014 in Rio Rancho, NM. In 2014, he was recruited to develop and manage the NM Economic Development Department's Business Resource Center in Santa Fe, NM. 
Nathan earned his Bachelor's at the University of Arizona and his MBA at the University of New Mexico Anderson School of Management with a concentration in the Management of Technology. While earning his MBA, Nathan participated in, and won first place, in the annual UNM Business Plan Competition, an intensive business pitch competition sponsored by Lockheed Martin and Technology Ventures Corporation.
Nathan believes that a meritocracy of freely exchanged ideas creates sustainable environments & best-practice business cultures. He believes everyone should add value in their spheres of influence and strive for continuous improvement.
 Janeth Moreno is the Director of Business Operations for Mount Pleasant Economic Development Corporation. As the Director of Business Operations, she contributes to developing, implementing, and monitoring day-to-day operational systems (both internal & external BRE development) and processes to provide visibility into the goals, progress, and obstacles of key initiatives. She brings financial expertise to the table with her Associate's in Accounting and former banking position. 
Janeth is currently attending Sam Houston State University to earn her Bachelor's in Business Administration. In 2021, she became appointed by the Secretary of State of Texas as a notary. Janeth has completed the Texas Basic Economic Course held by the Texas Economic Development Council. In addition, she has completed the ED Sales Tax Workshop Training held by the Texas Comptroller Office.
Janeth believes that learning is a constant process of discovery, a process without an end.