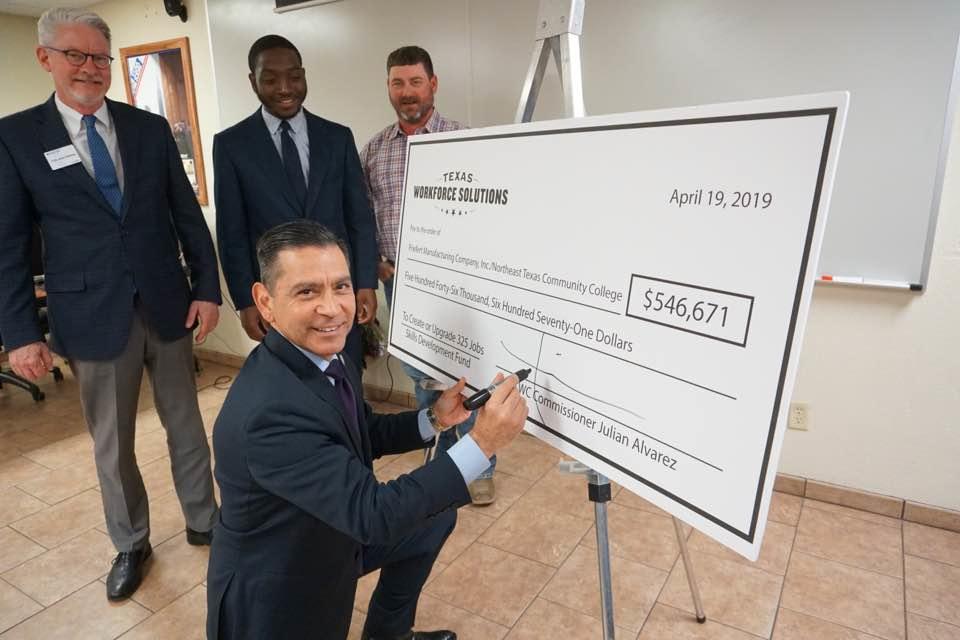 Priefert Awarded Workforce Grant for $546,671
On April 19th, 2019,Texas Workforce Commissioner Julian Alvarez traveled from Austin to Mount Pleasant in order to present Priefert & Northeast Texas Community College (NTCC) with a TWC Skills Development Fund Grant for $546,671. This grant is a partnership between Priefert Manufacturing & NTCC that will provide more than 15,000 hours of training for more than 300 Priefert employees throughout the year. The Skills Development Fund is Texas' premier job-training program providing local customized training opportunities for Texas businesses and workers to increase skill levels and wages of the Texas workforce. The Texas Workforce Commission administers funding for the program through a community or technical college. Success is achieved through collaboration among businesses, public community and technical colleges, Workforce Development Boards and economic development partners like MPEDC. Due to the high degree of collaboration between economic development and our education partner, the Skills Development Fund is one MPEDC's greatest offerings to industrial businesses operating in Mount Pleasant.
Congratulations to Priefert Rodeo & Ranch Equipment and our amazing partners at Northeast Texas Community College. Go team!