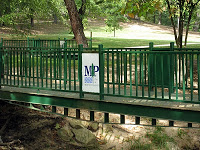 The City of Mount Pleasant Economic Development Corporation's Mission is to promote economic development in the City of Mount Pleasant and Titus County by supporting initiatives designed to increase jobs and private investment primarily in the manufacturing sector through real property development, workforce education and infrastructure extension. Mount Pleasant is located in the beautiful Northeast Texas region on Interstate 30. The city is the county seat for Titus County and the hub of the entire regional economy. Primary businesses in the area include poultry production by Pilgrim's Pride Corporation and agri-business products by Priefert Manufacturing. The area is nationally known for the production of all varieties of utility and agriculture trailers which are manufactured by a number of local companies.

The area offers excellent distribution opportunities to the four-state region of Texas, Oklahoma, Arkansas, and Louisiana as well as a workforce known for its productivity and ability. 

We like to say that Mount Pleasant is "One Location. All the Advantages." The MPEDC will help to make that location possible.